Resort at Squaw Creek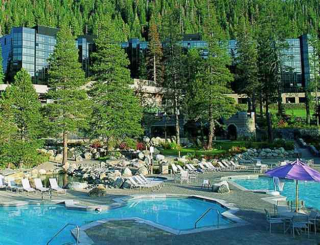 Scroll down to view listings.
The Resort at Squaw Creek, in Squaw Valley, is a very unique property. It is the only four-star, ski in/ski out, destination Condo/Hotel with a championship golf course located at the base of an internationally known ski area in the entire Lake Tahoe area. In 2005 the Resort made a transition to hotel condominium ownership that included an extensive upgrade and renovation. The 403 hotel rooms were converted into Studio units, One, Two and Three Bedroom luxury resort condominium suites for a total of 238 deeded condominiums. These have been purchased as vacation homes and 95% of the owners participate in the rental program. Therefore, the Resort at Squaw Creek is still a major convention facility and destination hotel. The Two and Three Bedroom condominiums are "Lock Off" units which mean that they can be used, or rented, as suites or individual rooms. Because it is a Four Star Hotel with many first class amenities (see below), the HOA dues that the owners pay is high. However, the annual occupancy at The Resort is the highest of any property in the entire North Tahoe/Truckee area, so in most cases the rental income that the owners receive usually pays the HOA dues and the property tax.
The Resort at Squaw Creek offers a rare combination of four-star hotel amenities, such as full-service spa, fine dining, ice-skating rink, heated pools and water slide, fitness center, convention facilities, and boutique shopping mall. The property is uniquely situated with its own 18-hole championship golf course, private ski lift with direct access to Squaw Valley USA and a network of scenic hiking and cross country trails. Over the years, the hotel has earned a reputation as the preferred destination resort hotel for the Squaw Valley and Tahoe area. In the December 2007 issue of the Conde Nast Traveler's Magazine the Resort at Squaw Creek was named on the list of the "Top 50 Ski Hotels in North America."
Of the total 238 condominiums sold by the developer, a number of resales are now on the market. Due to the economic downturn and, until recently lenders not providing loans on condo hotels, these resales were priced considerably lower than what they originally sold for. Now that the economy and the market in Squaw Valley has improved and financing is now available the listing prices have started to go up.
Click here for Resort Map
Click here for Resort at Squaw Creek web site.