Martis Creek Restoration Project Underway

Restoration on the Martis Creek Wildlife area began in early July with the Truckee River Watershed Council (TRWC) and its partners, the U.S. Army Corps of Engineers (USACE), Northstar Community Services District, and Northstar California. For over 20 years the Truckee River Watershed Council (TRWC) has completed numerous large-scale restoration projects on wetlands, meadows, and tributaries within the Truckee River watershed. These projects have served to preserve, protect, and revive the watershed to allow nature and humanity to thrive for future generations.
This project involves repairing 70 acres of meadow and two miles of streams using the instillation of Best Management Practices (BMP), fill and abandonment of irrigation ditches and culverts, flood plain, channel and streambank grading, instillation of various instream structures such as check dams, revegetation, and the instillation of up to 25,000 square feet of propagated revegetation mats at four site locations in the Martis Wildlife Area.
Due to the development of roads and home throughout the valley, Martis Creek has been severely altered and has been cutting down into the meadow. This has dried out vegetation on the surface which serves as a food source for the wildlife in the area. The project aims to reduce soil erosion, restore wildlife habitats, reinstate native wildflowers and reverse the degradation that has occurred.
The $3.5 million project has been in the works since 2016 when the council began a concept design. Before that they completed a full scale watershed assessment of the entire Martis Valley in 2012 to identify the projects that needed to be completed.
Funding for the project is through grants from the U.S. Fish and Wildlife Service and the Bureau of Reclamation. Much of the pre-construction work was funded through the Martis Fund, the Bella Vista Foundation and private donors.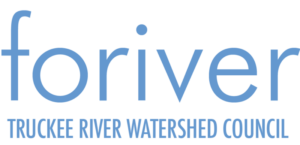 The project is expected to be completed in October. For more information on the work that TRWC does in the area check out their website.
During construction the Martis Creek trail will be closed but the Tompkins Memorial Trail will be kept open. Find more information on maps trails and closures here.