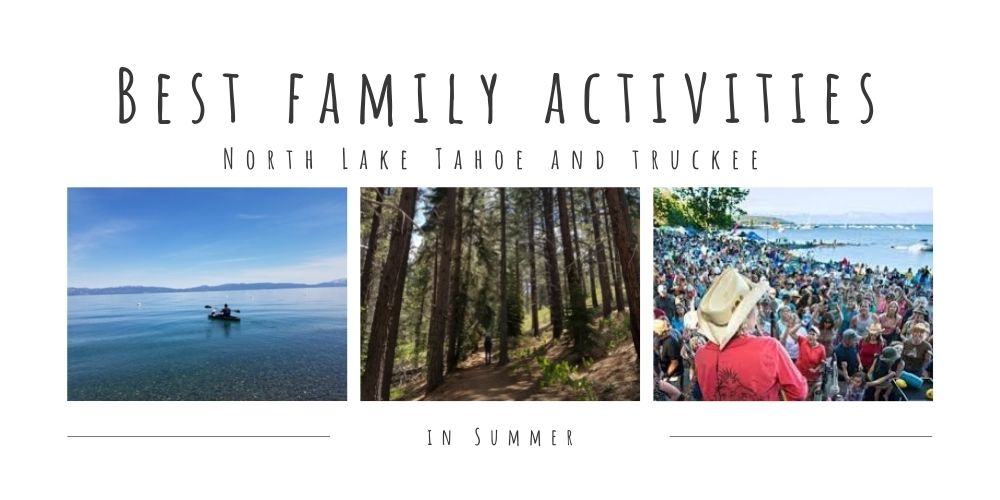 North Lake Tahoe and Truckee in summer is the perfect place for families to have fun and experience the outdoors. Whether your kids are toddlers, or teenagers, or both there is a lot to do with the whole family!
Hiking
Tahoe is well known for its amazing hiking trails and tall peaks. If you are looking for a great way to get into the woods with your family, I have compiled a list of my favorite family hiking trails, all approved by my 2, 8 and 10 year old grandchildren! Check it out HERE.
If your kids are older and more seasoned hikers check out the Best Peaks to hike around the lake. And the best Alpine Lakes to Jump in.

Cruise Lake Tahoe
Cruise the Lake with the Tahoe Gal, a 120 passenger paddle wheeler located in Tahoe City with daily cruises to Emerald Bay and the North and West Shore of Lake Tahoe. For reservations and schedules click HERE.
Concerts on The Beach
Concerts at Commons Beach are a local summer favorite. Every Sunday starting in June- Labor Day weekend you will find the whole family at the beach with a picnic, dancing, playing on the playground, or swimming in the lake. It is the perfect spot to enjoy some great local and regional music, and let the kids run and play. 2021 the music will tentatively begin in August. For up to date information check the TCDA website.
For a full list of all the free music on the North Shore and Truckee click HERE.

River Rafting
Rafting the Truckee River from Tahoe City to River Ranch is a Tahoe summer tradition. It is a leisurely float along a peaceful stretch of the Truckee River. You can either float the river on innertubes and pool floaties, or rent a commercial grade raft on a self-guided raft trip. Truckee River raft experience takes approximately 2-3 hours so bring a small cooler with snacks and drinks (please no Styrofoam or glass and pack out your trash). Rafting the Truckee is fun for all ages (2 years and up) and sure to be a fun, family memory to have for years to come.
Biking
Ride the river path along the Truckee or down the West shore or even check out the newer bike path on Dollar Hill through the forest. Or if your kids are older and better bikers check out some of North Lake Tahoe and Truckee's famous mountain bike trails. For my recommendations on the best mountain biking trails click HERE.