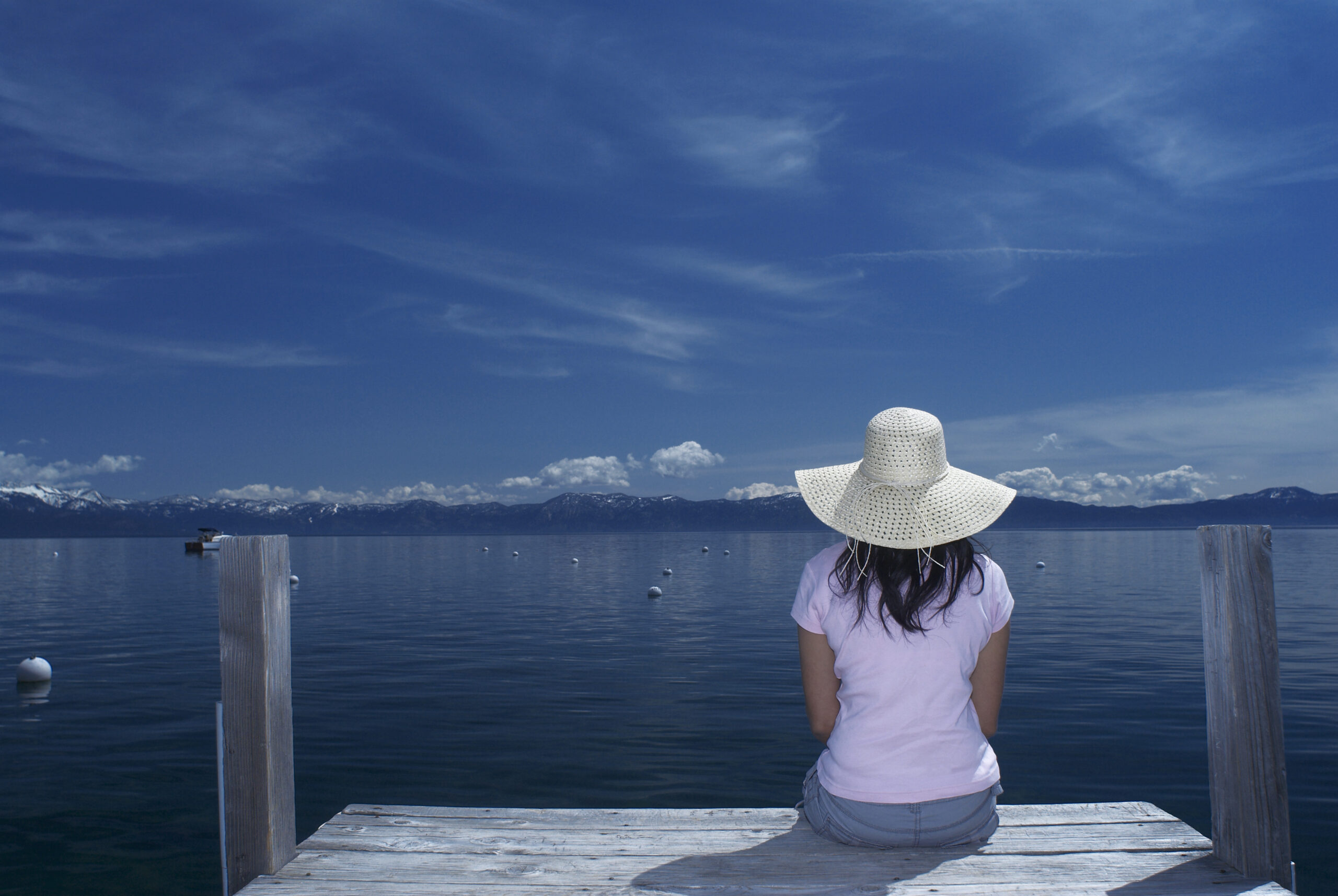 The coveted opportunity to own a property with direct Lakefront access spans the shores of Lake Tahoe, Donner Lake, Serene Lakes and other lakes in our Surrounding Area, from Auburn and Penn Valley on the west slope of the Sierra Nevada mountains, to scenic Sierra and Plumas Counties to the north, to South Lake Tahoe and the Nevada side of Lake Tahoe. Along the way you'll discover distinct unique communities, each with its own history and flavor. Depending on your wish list, ownership opportunities range from charming "Old Tahoe-style" cabins to luxurious modern estates to lakefront condo developments equipped with all the amenities. When considering a lake front properties there's a lot to think about. Naturally, neighborhood selection is important, however, there are some factors that affect how each home really lives year-round:
Proximity to the road (consider noise and snowplow service)
Ownership or access to a pier. Steel or wood pilings. Shared or private.
Depth of pier and/or beachfront (fluctuating lake levels can affect usability)
Community Amenities
Beachfront entitlements and topography
Privacy
Lake Tahoe Lakefronts
Lake Tahoe lakefront real estate begins around $1,500,000 for a condominium and $3,000,000 for a single-family home. They can reach $40,000,000 and higher for the most luxurious estates. The shoreline of Lake Tahoe stretches an amazing 72 miles and hosts a limited number of homes scattered along the lakefront. Due to restrictions on new developments, Lake Tahoe lakefront homes for sale are both unique and coveted, properties with piers and waterfront access even more so. There are a variety of communities with Lake Tahoe lakefront homes for sale from cabins to condominiums and large lakefront estates.
North Shore Lake Tahoe
Cabins, condominiums, and luxury homes can be found along the North Shore which runs west from Incline Village through King's Beach, and down to Tahoe City. Stateline to Brockway springs is distinct in the large granite boulders and sandy coves that make this area very picturesque and great for kayaking and paddle boarding. Along the North Shore the quality of beaches and sand varies greatly, with fine sand and a large shallow bench from Kings Beach to Tahoe Vista creating warmer water and sandier beaches but more effected by lake level fluctuations. Rocky and deeper waters can be found from Carnelian Bay to Tahoe City making the beaches less desirable but the pier access more predictable. Some of the homes in this area are off set from the road, but most are located directly on Highway 28. This is not always a bad thing because many of the homes have the garage on the highway with the house perched below on the side of the slope which affords more expansive views of the lake than houses located at shoreline. Some of the houses located just north of Tahoe City have large, level lots with room for yards. Some of these homes are large estates with private rocky beaches but conveniently located close to town.
The West Shore Lake Tahoe
The West Shore begins south of Tahoe City and continues through Sunnyside to Rubicon and Emerald Bay. Lake front properties in Sunnyside, Homewood, and Tahoma are a mix of very large luxury homes along the lake interspersed with a few Old Tahoe cabins. The area is well forested, with big trees, deeper waters, and rocky shoreline. Many of the West Shore properties offer larger acreage parcels that provide a peaceful private setting away from the highway.
South of Sunnyside are some very large estates. Sunnyside Lane is a very exclusive area with large estates, great privacy and amazing views. The best beaches on the lake can be found from Chambers Landing to Meeks Bay and Rubicon Bay. Beautiful long yellow sand beaches with granite boulders and deep emerald waters have made this area known as the Gold Coast. There are several historic estates located in Meeks and Rubicon Bays that were built around the turn of the 20th century and have had many famous guests. Click HERE to view one that is on the market right now.
Lake Front Condominiums
Lakefront communities on the North Shore like Brockway Springs, Chinquapin, and The Northwoods offer recreational resources to owners like piers with buoy fields, swimming pools and sandy beaches. Dollar Point offers recreational resources such as piers with buoy fields, swimming pools and sandy beaches as well as someone to manage the beach and take you to your boat. Star Harbor, has a pier, pool, harbor, and tennis courts. Some units are lake front, and some are on the harbor making for nice views and water access. Tahoe Marina Lakefront is located in the heart of Tahoe city and has a private pier and beach as well as tennis courts and a pool and easy access to town.
The historic properties of Tahoe Tavern and Tavern Shores have nice beaches and amenities such as a long pier, pool and tennis courts and are located a short walk south of Tahoe City. Also on the West Shore is Cedar Point which has just 18 units with also a wide range of amenities including a pier, pool and private beach.
The most exclusive condominium complex on the West Shore is Fleur du Lac situated on 15 acres of land with 22 units ranging in size from 4,300 to 6,000 sq ft. The property features a private harbor, pool, tennis court and yacht club. This is a private gated community with a famous club house and rock harbor built on the former Henry J. Kaiser Estate.
The Chambers Landing Condominium Development is an exclusive, gated, lakefront complex. There are 43 townhome-style luxury condominiums situated on 13.5 acres of prime lakeside grounds. Owners have access to their own private pier and buoy field, along with a sandy beach, four tennis courts, and a seasonally heated pool. The Chamber's Landing Bar & Restaurant is located adjacent to the pool.
Donner Lake
Donner Lake is a small lake located in Truckee Ca. The lake is 238 feet deep, and is well known for trout fishing, kayaking and paddle boarding. Lake front homes range from small classic mountain cabins to luxurious homes. Most of the lake front homes are located on the south side of the lake. These properties often have private piers, and some have small rocky sand beaches. The north shore of the lake has split lake front homes (a road between the home and the water access) which include great lake views and many have private piers and beach access. Donner Lake is a tight community that is quieter and more affordable than homes located on Lake Tahoe.
Serene Lakes
Serene Lakes are a pair of freshwater lakes, located in the mountains west of Truckee and about 15 mi northwest of Lake Tahoe. Serene Lakes consists of two connected bodies of water, Lake Serena and Lake Dulzura, which together span about 77 acres. Serene Lakes lakefront homes offer a quiet forested mountain setting at a fraction of the price of Tahoe and Donner lakefronts.
With 40 + years of experience in the Tahoe Truckee market, Greg can walk you through the primary differences in lifestyle and vacation experiences offered by all of the different Lakefront communities on the North and West Shores of Lake Tahoe, Donner Lake and Serene Lakes on Donner Summit. If you're interested in South Lake Tahoe or the Nevada side of the lake, Greg would be happy to refer you to an expert in those communities as well.