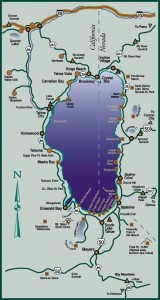 The South Lake Tahoe real estate market is the area from the Stateline on the Northeast to Cascade Properties near Emerald Bay, Meyers and Christmas Valley south of Lake Tahoe and Echo Summit and the American River Canyon on the west side of the Sierra Crest on Hwy 50. The area on the Nevada side of the state line is another different market. Click here for a Nevada Side of Lake Tahoe Real Estate Agent.
For properties in South Lake Tahoe, my friend and 18 year partner, Scott and his wife Yolanda are long time residents raising two children in that

community. I have worked with Scott since 1995. Not only is Scott an experienced Realtor, he is also a coach for kids in a number of different sports. As a Chase Interniatonal Real Estate Agent, Scott is very honest, straight forward and well informed. To quote Scott, "I tell it like it is and only show property that meets my clients' requirements." I feel very comfortable referring clients to Scott because I know that he will give the same good service that I would and he is a knowledgeable of that market as I am of mine.
Fill out the information request form below, hit the Submit button and I will send you Scott's contact information.
Oops! We could not locate your form.