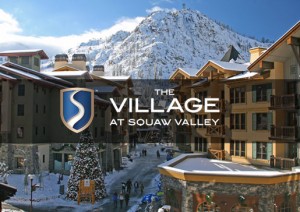 Click on establishment name for business hours, phone number and more details.  Download Village Map
Dining
Auld Dubliner Irish Pub and Restaurant   Authentic Irish cuisine, beer and spirits in a local cottage pub.  Bring your appetite and your friends and enjoy the ambience while you relax.
Bar One   A refurbished fireplace and expansive bar highlight this centerpiece of the Olympic House—a perfect place to grab a drink and contemplate the enhanced mountain views.  This is the centerpiece of the Olympic House.
Batch Cupcakery   Come in and choose from over 50 different flavors.  Cupcakes are baked fresh every day and feature all organic ingredients.
Cornice Cantina Mexican Bar & Grill   Bring the family during the day for traditional Mexican fare, or come in the evening for DJs and dancing.  The Cantina has something for everyone.  http://squaw.com/sv/the-village/dining-and-apres/cornice-cantina-mexican-bar-grill
Dave's Deli   Satisfy your hunger and thirst with a vast selection of food and beverages including Dave's hearty sandwiches and quick snacks.
Euro Crepe   Enjoy sweet or savory crepes for breakfast, lunch or dinner.  This traditional French novelty creates an original, delicious and affordable meal. 
Euro Snack  is convenient and fast.  Stop in for Belgian waffles or a Frog Dog (hotdog in a French baguette).  The best snacks ever and the best price.
Euro Sweets   Guaranteed to satisfy your sweet tooth.  Choose from gelato, frozen yogurt, candies and chocolates.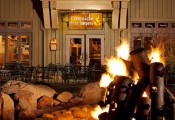 Fireside Pizza Company   Extensive menu includes pizza, pasta, and salads, and don't forget the wine and beer.  Visit this family-friendly restaurant and enjoy one of their gourmet pizzas.
KT Base Bar    The best place to enjoy a sunny day and watch the activity on KT-22.  Select from many new food offerings and choose your favorite beverage.
K|TChen   Satisfy your hunger with a juicy burger and fries made to order or enjoy crunchy tacos and other Mexican cuisine.
Le Chamois & Loft Bar   Join Squaw Valley local skiers and snowboarders and your friends for beers while you relax after a day on the slopes.
Mamasake Sushi and Sake   Enjoy traditional Japanese fare with a little Italian and Latin American thrown in.  Watch the huge projection screens playing action sports films or games.
Mountain Nectar   In the morning, savor fresh-squeezed juices, smoothies, specialty coffees and teas.  Add some bagels or wraps, and you will be ready for your day.
Mtn Roots Food Truck   Come visit the newest addition to Squaw Valley and Alpine Meadows.The two food trucks, in conjunction with the Tahoe Food Hum, offer sustainably souced and locally created food.
Plaza Bar   Make yourself comfortable at the Plaza Bar while you hang out with friends after a day on the slopes.
Plumpjack Café   Experience fine dining and exceptional wines.  The Café features locally grown, seasonal and organic ingredients, and is open for breakfast, lunch and dinner.
Rocker@Squaw   This is the place where stories are told.  Olympians, big mountain skiers and riders, gather to share their stories while enjoying beer, cocktails and food.
Soupa   Made from scratch and simmered to perfection, the food offered here includes soups, sandwiches and baked goods—the biggest macaroons I have ever seen.  The restaurant features organic and local ingredients whenever possible.
Starbucks Coffee Company   Best way to start the day is to enjoy your favorite coffee or tea from Starbucks.  Sit by the indoor/outdoor fireplace to warm up and appreciate the scenery of Squaw Valley and the activity in the Village.
The Pocket   Conveniently located, The Pocket is a cozy spot to rest for lunch or after a great day on the slopes.   
The Slot Bar   A local's favorite, the casual atmosphere offers the opportunity to hang out with old friends and make new ones.
Twenty-Two Bistro and Bar   Has an extensive wine list, custom cocktails and beer on tap.  The menu offers a wide variety of selections featuring items like Kobe beef burger and ahi tuna.
Uncorked Wine Bar and Shop   Offers fine wines, cheese plates, live music and more in a cozy and modern atmosphere.
Wildflour Baking Company   Pastries, breakfast and lunch are offered here.  Bread, tortillas, bao, bagels, soups and chili are all made from scratch.  Serving Peet's coffee and Sharffen Berger hot chocolate.
Services
Wanderlust Yoga Studio Squaw Valley   A serene location in the mountain landscape of Squaw Valley where guests are encouraged to strengthen their minds, bodies and spirits.
Trilogy Spa   Featuring body treatments, massage, skincare and more.  Visit the Lava Lounge for a glass of wine or champagne.  Come alone or with your significant other or with a group.  There's something for everyone.
Shopping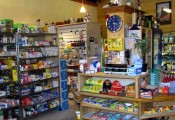 Alice's Mountain Market: Need groceries? Alice's is conveniently located in the Village and offers groceries, snacks, beer and wine.
Atlas Clothing Shoes and Gifts: For menswear, visit Atlas. You will find excellent personalized service and an assortment of clothing for any need or occasion.
Everything Hunky Dory: If you are a crafter, this is a shop you must visit. This studio specializes in candle-making (it smells great in here) and button-making, and offers other crafts as well. For kids there are doodling, coloring, and paper doll books. Come in and find your special project.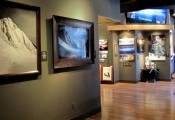 Gallery Keoki: Features a complete collection of Keoki Flagg's photography from Squaw Valley and Lake Tahoe to his world travels.
Kalifornia Jean Bar: The place to go to find the perfect pair of jeans, tops and accessories. All the latest fashions are represented here to outfit you in California style.
Lather and Fizz Bath Boutique: Offers everything you ever wanted or imagined for your bath from handmade soaps to sugar scrubs to body butter, lotions and creams, and a complete selection of facial products.
Mind Play: Entertain your brain. Find games, toys and books for the whole family, and settle in for the evening—or the day.
Oakley: This is where you find Oakley gear. Custom Eyewear Bar provides the opportunity to customize your Oakley goggles or sunglasses. Check out their sportswear and street-wear.
Olympic Valley Eyewear: Sunglasses and the optical expertise of Tahoe Sierra Eye & Optical will provide you with fashionable eyewear to meet any style and need.
Parallel Mountain Sports: A place to go for the full-service experience. Whether it's new skis or custom fitted boots, soft goods or accessories, you will find all your favorite brands at Parallel Mountain Sports.
Plump Jack Sport :  Check out an extraordinary collection of apparel including designer casual wear and technical sportswear. Sure you'll find something that meets your desires.
Salomon Offers state-of-the art skis, snowboards, boots and footwear as well as the largest collection of Salomon apparel in the Valley.
Sharpshooter Action photographers on the slopes between 9am and 2pm. Take home a photo of an unforgettable ski experience.
Spirits of the Valley A complete liquor store offering many craft brews, snacks and DVDs. Create your own six-pack for an outstanding après drink.
Spruced Gift & Home The most recent addition to the Village at Squaw Valley. Come in for an abundant selection of home décor along with gifts for any occasion including birthday, housewarming, or wedding shower.
Squaw Dogs Pamper your dog with designer pet accessories, gourmet treats and dog food.
Squaw One Logo Company Official Squaw Valley merchandise from apparel and souvenirs to wine glasses and post cards—something for everyone. http://squaw.com/sv/the-village/shopping/squaw-one-logo-company
Squaw Valley Outfitters Offers a wide variety of helmets, eyewear, base layers and footwear. Don't miss this while in the Village.
Surefoot Custom Bootfitters Check out the leading boot manufacturer in the world for comfort and performance. Boots for any skier and expert staff to customize them for your foot.
The Ledge Boardshop Visit the Ledge for snowboards, boots and bindings along with the newest apparel and accessories. Don't miss a regular rotation of art works from local artists.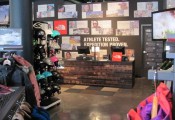 The Northface Find the best technical gear for your next outdoor experience, street apparel and footwear, and a great selection of kid's wear. Come to the new location next to Rocker@Squaw.