Want to Know Your Home's Value?
Check current market values for your home and view profiles of potential buyers

Selling Tips
Download the Chase Sellers Guide
Helping find a buyer for your home is only one facet of a real estate professional's job. There are many more aspects including explaining the basic real estate practices and principles and all the related paperwork, Performing a Comparative Market Analysis (CMA) to help determine your home's value, helping to prepare your home for sale, listing your home, marketing your home, keeping you informed throughout the process. When the sale begins, it's important to work with someone who will assist you with the paperwork, negotiate on your behalf, make sure deadlines are met, work with the title-escrow company and if your home is not Chase Ready I will assist the buyers agent in scheduling inspections.
By working with me, you will:
Have a skilled Certified Real Estate Negotiator working on your behalf
Be more likely to realize the highest return on the sale of your home
Reduce the number of days your home is on the market
Become familiar with all the terms, processes and paperwork involved in selling your home
Have confidence that your home will enjoy exposure to more buyers and agents with qualified buyers
Receive regularly updated market information that will enable you to make informed decisions
Have peace of mind knowing that all the details of your sale are being handled properly by a licensed and trained professional
You can also benefit from the Chase Ready Program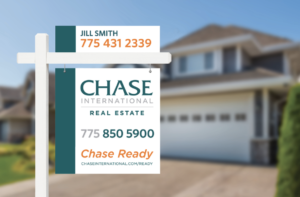 Download the Chase Ready Flyer

Chase International Real Estate is proud to present our "Chase Ready" property marketing program. Based on our commitment to providing our clients with a superior transaction experience, we are the first company in our region to provide prospective home buyers with full transparency on the condition of their home…. Making it easy for buyers to BUY!
Stand out from the crowd!
With Chase Ready, your home will stand out from the crowd by providing buyers full transparency on the condition of your home, Buyers will know what they are purchasing and can make an educated and confident decision when making an offer on your property.
What distinguishes a Chase Ready Property?
Prior to putting your home on the market, Chase Ready Properties have completed the following requirements:
Full Home Warranty for Buyers

Property Inspections

Fully Completed Disclosures

Preliminary Title Search

Completed Natural Hazards Disclosure Report

Completed Sewer Clearance if necessary

Defensible Space Evaluation if necessary

As part of our Seller Services Commitment, we are committed to sharing the benefits of the "Chase Ready" Properties program.
Buyers are more attracted to purchasing homes with the most complete information available
Eliminates virtually all major surprises that often occur during the property inspection process
It presents a more streamlined selling process
Allows sellers to complete potential repairs and improvements in the most cost effective manner. By completing repairs prior to putting your home on the market you have the opportunity to find competitive bids on repairs
Greatly reduces the stress and lost time of cancelled transactions due to the repair requests
It just makes sense –
Eliminates Unforeseen challenges that occur during escrow, better prepares the sellers
It differentiates you from virtually all other sellers
What are the other marketing benefits to the program?
In addition to the digital marketing campaign, which we do for every listing, "Chase Ready" listings will receive the following:
Promotion on the "Chase Ready" section of the ChaseInternational.com website
Special Social Media Promotion
Special "Chase Ready" Yard Sign
Special "Chase Ready" property flyer for display at your home.
For more tips on selling your home and what the market is doing check out my Real Estate Blog