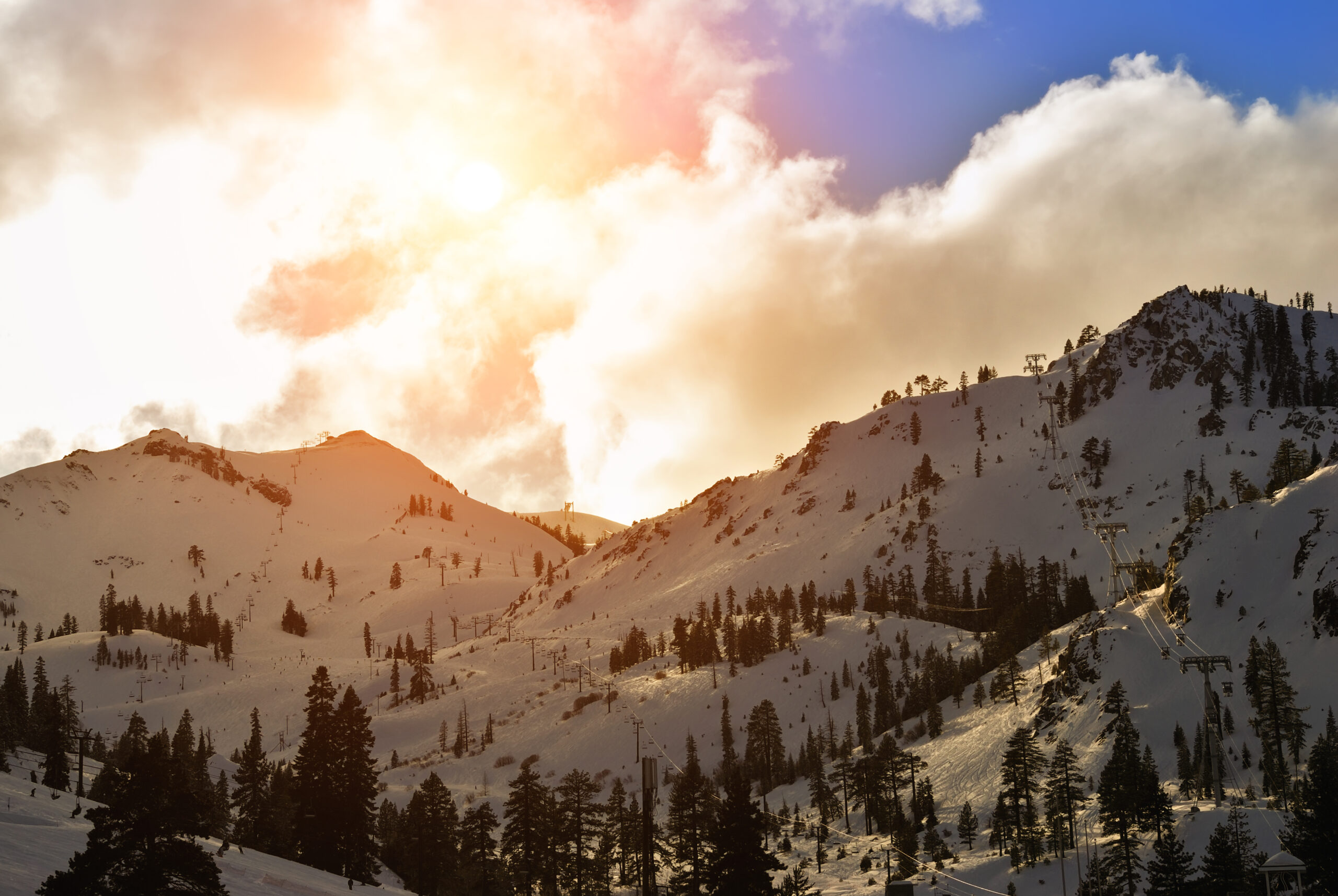 Click on establishment name for business hours, phone number and more details.
Dining and Drinks
Auld Dubliner Irish Pub and Restaurant Authentic Irish cuisine, beer and spirits in a local cottage pub. Bring your appetite and your friends and enjoy the ambience while you relax.
Bar One A refurbished fireplace and expansive bar highlight this centerpiece of the Olympic House—a perfect place to grab a drink and contemplate the enhanced mountain views. This is the centerpiece of the Olympic House.
Coffeebar Inspired by the coffee bars found on every street corner in Italy, Coffeebar was founded on the principles of providing the highest quality coffee and food in a café environment. The Squaw Valley location serves up delicious caffeinated beverages, beer, wine and gourmet food made with local and organic ingredients.
Cornice Cantina Mexican Bar & Grill Bring the family during the day for traditional Mexican fare, or come in the evening for DJs and dancing. The Cantina has something for everyone.
Dave's Deli Satisfy your hunger and thirst with a vast selection of food and beverages including Dave's hearty sandwiches and quick snacks.
Euro Crepes Breakfast, lunch or dinner, Euro Crepes' made-to-order sweet or savory crepes are the perfect way to enjoy an original, delicious, and affordable meal. No alpine experience would be complete without this traditional French specialty.
Euro Snack Authentic Belgian waffles and Frog Dogs (hot dog in a French baguette) have become Squaw Valley staples. Convenient and fast, Euro Snack offers you a delicious meal at a great price! Look for the kiosk by the Gold Coast Funitel.
Euro Sweets A colorful interior and guarantees to satisfy your sweet cravings. Grab a gelato, frozen yogurt, specialty candies and chocolates or other unique treats. Located in the center of The Village at Squaw Valley.
Fireside Pizza Company Extensive menu includes pizza, pasta, and salads, and don't forget the wine and beer. Visit this family-friendly restaurant and enjoy one of their gourmet pizzas.
KT Base Bar The best place to enjoy a sunny day and watch the activity on KT-22. Select from many new food offerings and choose your favorite beverage.
Le Chamois & Loft Bar Join Squaw Valley local skiers and snowboarders and your friends for beers while you relax after a day on the slopes.
Mountain Nectar In the morning, savor fresh-squeezed juices, smoothies, specialty coffees and teas. Add some bagels or wraps, and you will be ready for your day.
Mtn Roots Food Truck Come visit the newest addition to Squaw Valley and Alpine Meadows. The two food trucks, in conjunction with the Tahoe Food Hum, offer sustainably souced and locally created food.
OH! Burger For a classic ski lunch, head to our new to-go stop in the Olympic House at Squaw Valley, Oh! Burger. Serving up juicy burgers, fries and delicious chicken sandwiches made to your liking, Oh! Burger will leave you feeling delightfully satisfied.
Plaza Bar Make yourself comfortable at the Plaza Bar while you hang out with friends after a day on the slopes.
Plumpjack Café Experience fine dining and exceptional wines. The Café features locally grown, seasonal and organic ingredients, and is open for breakfast, lunch and dinner.
Rocker@Squaw This is the place where stories are told. Olympians, big mountain skiers and riders, gather to share their stories while enjoying beer, cocktails and food.
SmOkehouse BBQ Satisfying side dishes and meaty mains like the "Three Little Pigs" sandwich: a butter toasted brioche bun layered with jalapeno slaw, seared Applewood smoked pork belly, overnight smoked pork shoulder, and crispy bacon all drizzled with Carolina BBQ sauce and roasted garlic aioli. SmOkehouse BBQ has quick grab-and-go options available in addition to snacks, drinks and canned beer and wine. Seating is available throughout Olympic House as well as outside on the KT Deck.
Soup Spot Hot and hearty soups are served out of the Olympic House, next to the Pocket Bar and stairs to the Plaza Bar. Walk up to the Soup Spot window for a selection of soups and snacks to-go. Al fresco seating is available on the KT Deck.
Starbucks Coffee Company Best way to start the day is to enjoy your favorite coffee or tea from Starbucks. Sit by the indoor/outdoor fireplace to warm up and appreciate the scenery of Squaw Valley and the activity in the Village.
The Slot Bar A local's favorite, the casual atmosphere offers the opportunity to hang out with old friends and make new ones.
Tram Car Bar The Tram Car Bar, a restored 70's era Squaw Valley tram cabin, has made its home on the Olympic House deck, serving drinks as the Aerial Tram soars overhead. Skiers and riders can duck in for a "Backscratcher" cocktail, a spicy take on the Moscow mule named for a favorite ski trick of the 70's hot-dogging days. The 7,000-pound silver tram cabin is a nod to Squaw Valley's storied past—the original logos and unique shape of the cabin will be the ideal après-ski photo op with the iconic Tram Face in the background. Tram Car Bar will serve Pabst Blue Ribbon on draft, wine, bubbles, and other vodka cocktails, with a happy hour from 3-4 pm.
Tremigo Mexican Kitchen & Tequila Bar Located in a newly renovated, expanded space in the heart of the Village at Squaw Valley, Tremigo Mexican Kitchen & Tequila Bar is the much-anticipated second restaurant from the owners of Auld Dubliner Irish Pub. Tremigo serves signature Mexican dishes and has large booth seating, ideal for groups and families.
22 Bistro and Bar Extensive wine list, custom cocktails and beer on tap and a menu that offers a wide variety of selections featuring items like Kobe beef burger and ahi tuna.
Umbrella Bar The Umbrella Bar is the place to be during the spring and summer at Squaw Valley! Here you can relax after the slopes, grab a drink at the bar, or hang out in the enormous jacuzzi while you soak up the California sunshine and the beautiful views at 8,200′.
Uncorked Wine Bar and Shop Offers fine wines, cheese plates, live music and more in a cozy and modern atmosphere.
Wildflour Baking Company Pastries, breakfast, and lunch are offered here. Bread, tortillas, bao, bagels, soups and chili are all made from scratch. Serving Peet's coffee and Sharffen Berger hot chocolate. Best cookies in the North Lake Tahoe and Truckee region.
Zeus Mediterranean Zeus is home to fast-casual Mediterranean dining, serving signature items like the lamb and beef gyro pita: spit-roasted marinated lamb and beef, shredded lettuce, tomato, cucumber, pickled veggies, baba ganoush, and our house tzatziki sauce, all wrapped in a freshly grilled pita. Zeus has quick grab-and-go options available in addition to snacks, drinks and canned beer and wine. Seating is available throughout Olympic House as well as outside on the KT Deck.
Services
Wanderlust Yoga Studio Squaw Valley A serene location in the mountain landscape of Squaw Valley where guests are encouraged to strengthen their minds, bodies and spirits.
Shopping
Alice's Mountain Market: This market offers a wide selection of groceries with an emphasis on organic and gourmet foods. In addition to their food offerings, Alice's carries beer, wine, sundries, souvenirs, and more. Next door you will find their boutique bottle shop, Spirits of the Valley, featuring beer, wine, and spirits. Over 80 craft beer options fill the shelves – choose from singles or create a custom six-pack. Alice's is a great stop for snacks, après ski drinks, and the basics – milk and eggs.
Alice's Bottle Shop For the perfect apres drink, look no further than Spirits of the Valley, a complete liquor store. Create your own 6-pack and choose from one of the many craft brews available.
Estelle Sports Estelle Sports at Alpine Meadows carries some of Lake Tahoe's best winter apparel. Whether you're looking for technical name brand ski and snowboard accessories, or you've forgotten your sunglasses, Estelle Sports has it all.
Gallery Keoki: Features a complete collection of Keoki Flagg's photography from Squaw Valley and Lake Tahoe to his world travels.
Kalifornia Jean Bar: The place to go to find the perfect pair of jeans, tops and accessories. All the latest fashions are represented here to outfit you in California style.
KTees Logo Wear With clothing, souvenirs, and light ski/ride equipment, there is enough here to do all your shopping for the family. Stop by today and see what we have in store!
Lather and Fizz Bath Boutique: Offers everything you ever wanted or imagined for your bath from handmade soaps to sugar scrubs to body butter, lotions and creams, and a complete selection of facial products.
Mind Play: Entertain your brain. Find games, toys and books for the whole family, and settle in for the evening—or the day.
Oakley: This is where you find Oakley gear. Custom Eyewear Bar provides the opportunity to customize your Oakley goggles or sunglasses. Check out their sportswear and street-wear.
Parallel Mountain Sports: A place to go for the full-service experience. Whether it's new skis or custom fitted boots, soft goods or accessories, you will find all your favorite brands at Parallel Mountain Sports.
Plump Jack Sport : Check out an extraordinary collection of apparel including designer casual wear and technical sportswear. Sure you'll find something that meets your desires.
Patagonia Patagonia provides the eager outdoorsmen with the environment friendly apparel and worry-free gear needed to allow the focus to remain on achieving a connection with nature. Stop in to Patagonia in The Village at Squaw Valley for all your outdoor apparel needs.
Spruced Gift & Home Find that perfect gift you've been after or shop our selection of home décor that is sure to spice up any room in the house. At Spruced Gift & Home you will find something special for your condo or lake house that will help remind you of Squaw Valley and Lake Tahoe for years to come.
Surefoot Custom Bootfitters Check out the leading boot manufacturer in the world for comfort and performance. Boots for any skier and expert staff to customize them for your foot.
The Ledge Boardshop Visit the Ledge for snowboards, boots and bindings along with the newest apparel and accessories. Don't miss a regular rotation of art works from local artists.
The Northface Find the best technical gear for your next outdoor experience, street apparel and footwear, and a great selection of kid's wear. Come to the new location next to Rocker@Squaw.
The Village Logo Company With a great variety of clothing for the entire family, along with souvenirs ranging from wine glasses to postcards, the Village Logo Company has something for everyone to ensure lasting memories of your trip to Squaw Valley.