Squaw Valley's Own Via Ferrata Now Open!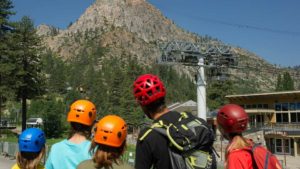 Via ferrata, an Italian term meaning iron road, is a protected climbing route with permanent steel anchors and cables that allow participants to be safely connected to the rock at all times. Participants never unclip from the cable during the climbing sections, and bypass the anchors via a small slot in their carabiners. Each climb is led by Alpenglow Expeditions guides, who teach participants how to navigate the rock face while introducing basic climbing techniques.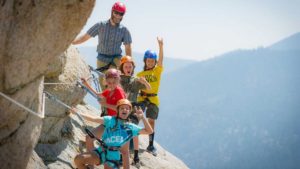 The route is located on the iconic Tram Face standing 1000 ft above Suqaw Valley. Climbers access the route via a short truck ride up the mountain. From there, groups of six climbers are led by guides on a short hike to the base of the via ferrata which is composed of two routes, making use of steel rungs and other features installed in the granite along the route to safely reach the top. The two routes meet up on a tiny cliff below the top of Tram Face called the "Island in the Sky." From there, climbers traverse past Squaw Valley's Tram Chute before arriving at the conclusion of the route beneath Tram Tower 1. The route itself can be as challenging as climbers make it with options of grabbing the cable, bolts, rungs, or holds in the granite.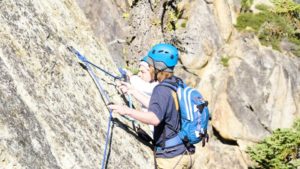 Alpenglow Expeditions celebrated the 2019 grand opening of the Tahoe Via Ferrata on Wednesday, July 3. The Via Ferrata first opened at Squaw Valley last October, and operated for roughly six weeks before snowfall halted climbing. Alpenglow Expeditions will operate the two routes seven days a week through summer and fall, and may expand to offer other routes in the future.
The climb takes roughly four hours and costs $149. Alpenglow Expeditions also offers an intro course for $99, in which climbers spend 2.5 hours on the lower half of Tram Face. Private and group tours are also available. To book a tour up the Tahoe Via Ferrata, visit TahoeVia.com