Disney, you say?  Yes, Walt Disney was an instrumental player during the development of Squaw Valley and the famous 1960 Olympics that were held here.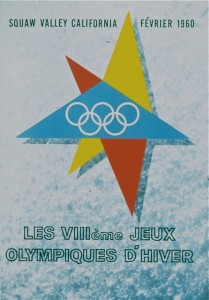 Olympic Valley (also known as Squaw Valley- it's the same thing) began its ski adventure with Wayne Paulsen and Alex Cushing in 1942. With personal money and imagination, they opened Squaw Valley Ski Resort in 1949. In 1954, Cushing read about Reno, Nevada making a bid to host the future 1960 Olympic Games, and decided he'd get in the race to be a contender as well.
At the time, Squaw Valley had only one hotel with 50 rooms. There was one chairlift and two tow ropes. The odds were severely stacked against Cushing. Popular Innsbruck, Austria was in the race as well. Cushing's selling point was that the undeveloped Squaw Valley area was a blank slate, ready to have everything created for a world class event. Miraculously, Squaw/Olympic Valley won the bid with the promise of having everything ready by 1960 for the international event. The 1960 Winter Olympics had the promise of millions of viewers since they were the first to be televised to the world at large.
Cushing and other investors kept true to his vow. In five years, facilities were built that could handle the crowds and the athletes. They constructed roads, bridges, hotels, restaurants, event arenas, a speed skating track, ski lifts and a ski jumping hill, and the very first Olympic Village to house the athletes.
How Disney Made Olympic Valley Magical
Now, about Disney. He had an interest in skiing. In fact, back in 1939 he helped finance the Sugar Bowl Resort. Flash forward to 1958, when the Olympic Committee organizing chairman Prentis Hale visited Walt and asked him to become the Chairman of the Pageantry Committee for the 1960 Games. Walt agreed, and created a phenomenal event that was the building block for all Olympic ceremonies since. Walt's goal was to have the opening, closing, and awards ceremonies be "full of innovation and firsts."
No detail was overlooked. Walt brought the talent of the Disney staff to bear and created an Olympic torch whose design has been the basis of every new design since. Disney brought in entertainment, bands, pageantry, security, created the idea of official sponsors of the Games, started the concept of a group of flagpoles for all the nations being represented, and offered a film festival for the athletes' evening entertainment.
Gold Medals Awarded to:
Today, Squaw Valley residents and visitors should recognize and give due credit to Alex Cushing, for daring to challenge the Olympic Committee, and for Walt Disney, who was instrumental in making the dream of the Olympics and Squaw Valley come true.
Photo Credit: Walt Disney Family Museum