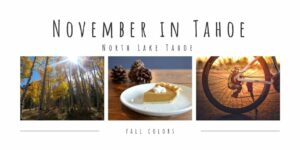 Its that time of the year again! Leaves are falling, pine needles are building up, its starting to snow, and turkey is roasting in the oven. This time of year in North Lake Tahoe is known as the 'off season' and that means that a lot of businesses are closed or have limited hours, tourists are in short supply, and so are some of the fun activities that Tahoe is known for. So what should you be doing this November?
Go Mountain Biking
Tahoe may be known for its world class skiing and its amazing crystal clear waters, but did you know that
Tahoe also offers some of California's finest mountain bike trails? And in November mountain biking can be a great because the ground is firm and compact unlike the dry, silty summer months. Of course you have to
watch out for snow and mud! Find my five favorite trails HERE
Go Skiing
Yes that is right four resorts are open or plan to open by Thanksgiving!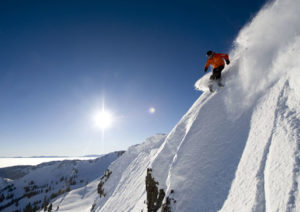 Palisades Tahoe – November 22
Mt Rose Ski Tahoe – November 22
Northstar – November 18th.
Sugarbowl – December 9
Diamond Peak – December 9
Homewood Mountain Resort – Early December
Go Ice Skating
Northstar has a great ice scatting rink located in the heart of the village. A perfect place for a family outing or a romantic date. Go skating and then head to one of the great restaurants in the village for dinner or catch a movie at the Northstar theater. The skating rink opens every day at 2 pm. Skates are $15 to rent, or bring your own and skate for FREE! Check out their website or call before going to make sure they are open, operations are weather dependent. (530) 562-3689
Take a Hike
Fall colors are still out, especially if you catch it before the first snow. See my list of the best fall color hikes HERE
Guided Snowshoe Hike
Tahoe Adventure Company offers guided snowshoe hikes both during the day and full moon and star gazing tours. You can even opt into a warm drink and a grommet lunch while getting some exercise and learning about the local flora and fauna from one of their experienced snowshoe guides. Check out their website for all of the info.