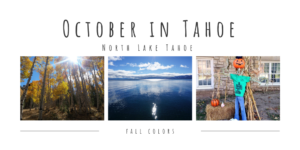 Fall Hikes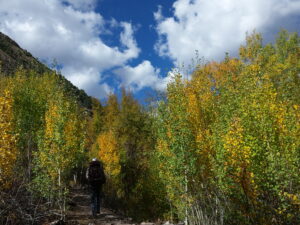 Tahoe is well known for its stunning peaks and beautiful lake but did you know that there is also an amazing fall color show each year in this part of the Sierra Nevadas? I have complied a list of my favorite fall color hikes in the Tahoe Truckee area that are easily accessible to the whole family. Click here for the full guide
Kayaking and Stand Up Paddleboard (SUP)
The lake is glassy and maybe a bit cold during the fall months but rewarding if you are willing to brave the water. Many people find October to be a splendid month to kayak and SUP because there are so few boats on the lake, the waters and wind are generally more calm, and the lighting is spectacular with the low fall sun. Many of the summer businesses that rent kayaks and SUP are closed down in October but Tahoe Adventure Company is open through November for rentals. Click here for more info on rentals
Mt. Bike Riding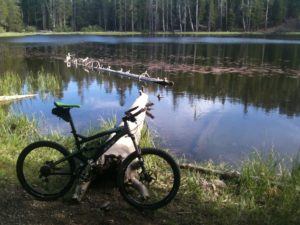 Some of Tahoe's best mountain bike riding can be had in the fall. The weather is cool, the colors are amazing, and the ground is often compact and a bit more damp than the silty soil found on summer mountain bike trails. The Tahoe area offers some of the best trails in the Sierras, for a few good suggestions in the Tahoe City area Click here for a Trail map
Also, Olympic Bike shop in Tahoe City is a great resource for trail information and rentals. As well as gear, repairs, and all things mountain biking. Click here for Olympic Bike Shop online reservations for mountain bikes
Ride the River for Fall Colors
Ridding the bike path located along the Truckee River is a great fall activity because the bike path is less crowded this time of year and the colors are always spectacular. Stop and have a picnic and enjoy the calm waters and the great views. To access the bike path take highway 89 towards the West Shore and pull off to the right, just before the roundabout to access the 64 Acres park. there is a large parking lot with bathrooms and picnic benches. You can start the river bike path from there and follow it all the way to Squaw Valley.
Made in Tahoe Festival
October 8 and 9, Olympic Valley
Made in Tahoe celebrates all things LOCAL. The Village at Palisades Tahoe will host a wide array of offerings that are made in or inspired by the Lake Tahoe Basin and Truckee areas: local artisans, businesses, chefs, organizations, and entertainers. Discover, explore, and experience our rich community full of talented creators. For more information click HERE.
Check out the Scare Crows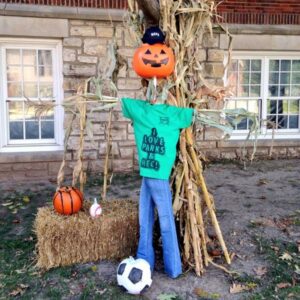 Take an October stroll through downtown Tahoe City and check out the scarecrows. Each year the local businesses and the Elementary school team up to make scarecrows to decorate the town. Learn more HERE