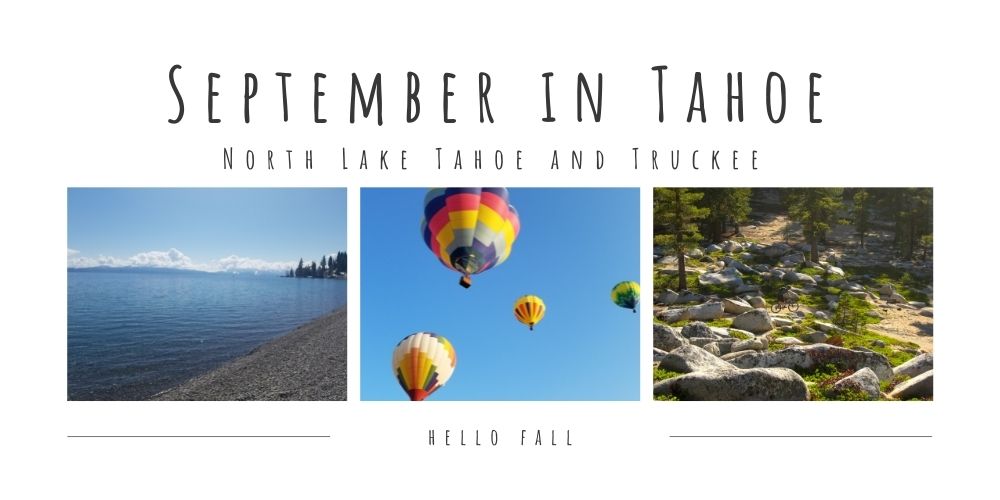 September in North Lake Tahoe and Truckee is one of the best months in my opinion, because the crowds are gone but the weather is still warm and many summer activities are still enjoyable, as well as some cooler temperatures for biking and hiking.
Go For a Hike
Lake Tahoe is famous for its stunning mountain tops and expensive hiking trails. I have compiled a list of the must visit peaks in the region. September is a great time to tackle these peaks because the temperatures are cool and the threat of snow is still low! Check out the full list here.
Mountain Bike
September in Tahoe is a prefect time to hit the dirt and go mountain biking. The crowds are low and the air is cooler! Tahoe may be known for its world class skiing and its amazing crystal clear waters, but did you know that Tahoe also offers some of California's finest mountain bike trails? Check out five of my favorites here!
Kayak and Paddle board
September in Tahoe is a great time to kayak and paddle board because the lake is much calmer after most of the motorized boating is over for the summer. For kayak rentals check out Tahoe Paddle and Ore's website HERE.
Beach Time
Believe it or not Tahoe often experiences some amazingly warm weather in September which makes it perfect for a dip in the Lake. Locals love this time of year because you often have the beach all to yourself!

Some Great Events to Check out:
Toccata Memorial Concert Series
September 9-18, 2022
This is a series of events hosted by the Tahoe Symphony Orchestra and Chorus, who are known for quality concerts featuring local musicians of all ages in small, intimate venues.
For schedules and event info click here.
Reno Balloon Races
Sept. 9-11, Rancho San Rafael Regional Park
I know! This is not in the North Lake Tahoe and Truckee area but it is a quick 45 min drive and it is worth it! The Great Reno Balloon Race is the world's largest free hot-air ballooning event. It is an incredible site and worth the drive, and the early morning wake time!
For the schedule and all the info click here.
Trails and Vistas Fall Art Hikes
Saturday-Sunday, September 10-11th, North Lake Tahoe
The larger signature fall art hike at Tahoe Meadows Interpretive Trail is a 1.3-mile loop along meadows and through forests near Mount Rose Summit, 8 miles north of Incline Village and North Lake Tahoe. A complimentary shuttle will bring you to the trailhead, meeting at Diamond Peak Ski Resort Lower Parking Lot. The hike provides a wonderful opportunity to enjoy eight art and performance sites set along a gentle hiking trail for people of all ages and hiking abilities.
For more information and tickets click here.
Spartan Race
Sept. 24, Olympic Valley
The Spartan Race North Lake Tahoe Ultra and Beast Weekend is a Obstacle & Mud Runs race in Olympic Valley, consisting of a Ultra 30 Miles – 60 Obstacles.