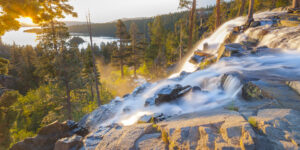 Tahoe is best known for its epic winter sports and sunny summer fun, but did you know Tahoe has so much to offer in spring? Spring skiing is great, hiking is starting to be available, and the waterfalls are at their peak! Here are some of the best waterfall hikes to check out this spring!
There are several beautiful falls along Squaw Creek that slide along the huge granite boulders at the base of tram face and up Shirley Canyon. These falls are all accessible from Shirly Lake Trail which starts in the back-parking lot of Squaw Valley behind the Olympic Village Inn Resort.
A must see, Cascade Creek Falls Trail offers a moderate mile-long path with lavish ferns and wildflowers along the way. The trailhead is off of Highway 89 at Emerald Bay from the Bayview Campground across from Inspiration Point.
This gorgeous waterfall located in iconic Emerald Bay. The falls are visible from the parking area at Emerald Bay but a small hike will reward you with views of both the upper and lower falls as well as Vikingsholm and Emerald Bay. It is an easy to moderate hike down a dirt road to Emerald Bay and Vikingsholm. Then a quick walk to Lower Eagle Falls with drops in two large cascades of 60 and 90 feet. Then from the picnic area, continue a quarter of a mile up to see the Upper Eagle Falls.
Glen Allen Falls is located above Fallen Leaf Lake. It's easily accessible from Highway 89 north, approximately three miles from Highway 50. (Look for Fallen Leaf Lake Road.) Continue until you see the trailhead sign and turn left. Parking is across from Lily Lake. The best time to view is April through the end of May.
Off of Highway 50 south of South Lake Tahoe near approaching Twin Bridge is Horsetail Falls, created by Pyramid Creek flowing down the steep glacier-carved granite faces of Desolation Wilderness. Its 800-foot drop makes it the largest waterfall in the Tahoe area. From South Lake Tahoe take Highway 50 west about seven miles from Echo Summit and park in the well-developed parking area near Twin Bridges and the Pyramid Creek Trail.
Fontanillis Lake Falls is a day hike, roughly 5 miles one way. The conditions are such in the spring that snowshoes are a must. The waterfall is a 150-foot cascade that drops from Fontanillis Lake to Upper Velma Lake. This is a must see in spring and early summer months. You will need to obtain a wilderness permit at the Eagle Falls trailhead for this day-long hike and you won't want to forget a lunch, a camera, and stamina.